Casino Reviews > villafortuna.com
villafortuna.com
Villa Fortuna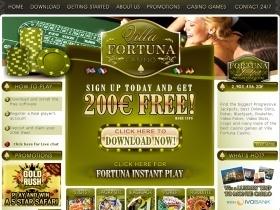 Description:
Online Casino


Rogue Casino Warning!: Villa Fortuna has been classified as ROGUE by NoLuckNeeded.com for player neglect, nonpayment, or bad practices. Avoid this casino at all costs.
Related Discussion and Bonuses for Villa Fortuna
User Reviews
There are currently no reviews for Villa Fortuna. If you have gambled at Villa Fortuna please share your stories to help others.
Write a review for Villa Fortuna
Log in to write a review for Villa Fortuna
Note: If you find any errors in the information contained within the Villa Fortuna profile page or have concerns with the content of the listing please Contact Us and we will look into your concerns.