NFL Week 13 Odds, Matchups, Analysis: Redskins @ Eagles
TDTAT
Moderator
Joined: 11 Mar 2006
Posts: 96481
Likes: 40572
Location: Gambleville
2283821.10 NLN Dollars
Tournament Dollars

---
---
NFL Week 13 Betting Odds, Notable Matchups, TV Schedule By Christopher B. Watford for NoLuckNeeded.com



The Cowboys spoiled the Saints 10 game win streak with some suffocating defense in a game that you really didn't want to miss. The Saints still remain one of the three powerhouses in the NFL, with a record of 10-2 and some big wins throughout the season, they've shown that they're ready for the playoffs. With five weeks left until the playoffs, let's take a look at some of the important matchups this week.



Minnesota Vikings (+5) @ New England Patriots (-5) - 12/2/18



Two teams who I thought would run the NFL this year have slightly underperformed, while some dark horse teams have come and claimed the throne. Before the season started, I wrote about Kirk Cousins and how he was a generational talent. While Cousins hasn't been able to lead his team to a better record, he's still playing at a high level. In the Viking's 24-17 win against the Packers last week, Kirk Cousins threw three touchdowns for 342 yards on 76% completion.

While this is a matchup of two star quarterbacks, Tom Brady is coming off a slightly rough game against the Jets who are ranked the 21st worst defense in the league. Brady threw two touchdowns for 283 yards on 65% completion.

Going in to week 13, the Patriots are tied for the eighth best offense in the league and the Vikings have the third best defense in the league. As the saying goes "defense wins championships." But do the Vikings have what it takes to win a week 13 matchup against the Patriots? Watch this matchup between two teams who are trying to prove themselves this Sunday on FOX at 4:25 PM ET.

Can the Texans win it all? Bet Your Superbowl Pick!





LA Chargers (+3.5) @ Pittsburgh Steelers (-3.5) - 12/2/18



I always love watching a matchup between two star quarterbacks and this is a game that surely will not disappoint. Two star quarterbacks, both drafted in 2004 will duke it out for the final matchup of this Sunday night: Ben Roethlisberger and Philip Rivers.

Rivers has lead the charge for the Chargers, but he underperformed in a tough 23-22 loss against the Broncos two weeks ago, where he threw two interceptions on 65% completion.
Both of these teams are coming off tough losses against Denver, and Roethlisberger didn't fare very well against them either. He threw the ball 56 times, with two interceptions and only a single touchdown.

While the Chargers boast the fifth best offense in the league, the Steelers are right behind them on defense with the seventh best defense. Do the Chargers have what it takes to beat the spread and redeem themselves after their loss against the Broncos? Check it out this Sunday on NBC at 8:20 PM ET.



Washington Redskins (+6.5) @ Philadelphia Eagles (-6.5) - 12/3/18



What better way to close out this week of football than with a division matchup? The Eagles are lingering just one game behind Washington and the odds have them favored to win this game to bring them to an even record.

While they're not going to go head to head, it will be interesting to see who wins the battle between the Redskins' tight ends and the Eagles' offensive line. Vernon Davis is one of the oldest players on the Redskins, but he's still one of the quickest players in the league and is able to break through just about any defense in the league. On the other side of the coin, the Eagles' o-line is able to break through just about any defense in the league and can leave gaping holes in an offense.

Do the Redskins have what it takes to beat the spread and snatch the victory from the Eagles? Tune in to ESPN this Monday at 8:15 PM ET.

Game Odds courtesy of Intertops Sports. Betting odds are subject to change.

Bet on the Chiefs and Rams Game at Intertops Sports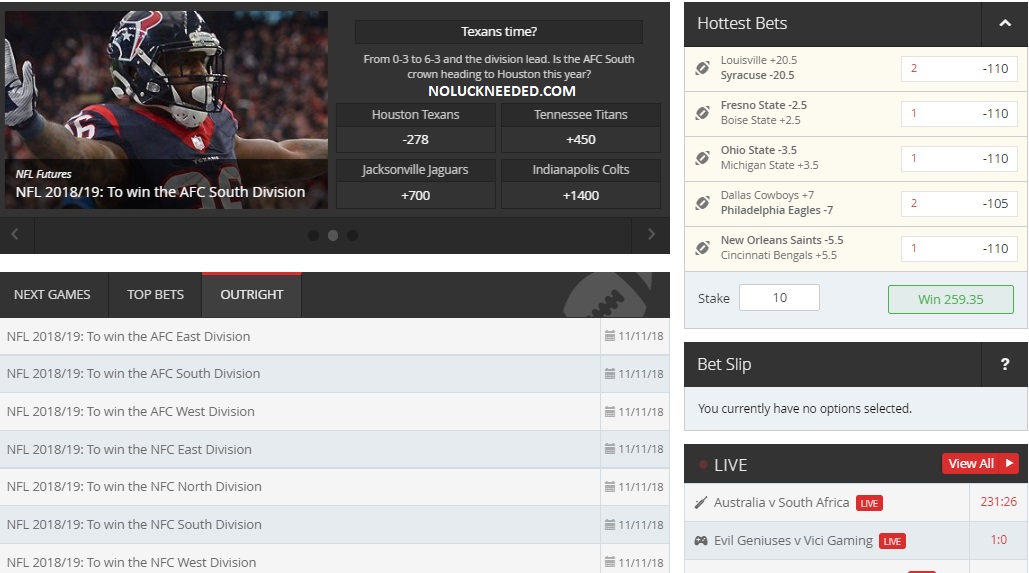 _________________