NFL Week 12 Matchups, Odds, Analysis: Titans @ Texans
TDTAT
Moderator
Joined: 11 Mar 2006
Posts: 96481
Likes: 40572
Location: Gambleville
2283821.10 NLN Dollars
Tournament Dollars

---
---
NFL Week 12 Betting Odds, Notable Matchups, TV Schedule By Christopher B. Watford for NoLuckNeeded.com



The Rams and the Chiefs was everything that we could have hoped for and more. Pat Maholmes threw 478 yards for 6 touchdowns in a losing effort in a historic 54-51 game. It was the first game in history where both teams scored over 50 and the third highest scoring game in NFL history. If you missed this game, then I am truly sorry for you. It's going to be hard to top this historic week in the NFL, but we've got some good games to look forward to.



Seattle Seahawks (+3.5) @ Carolina Panthers (-3.5) - 11/25



We're starting this jam-packed Sunday with a matchup between Seattle and Carolina. The best rushing team in the league, the Seattle Seahawks, will be running against the Panther's d-line which is ranked 7th in the league for rush defense. Aside from the rushing, one of the key matchups is Russell Wilson and Cam Newton.

Wilson has outplayed Newton in the five games that they've played against each other, averaging 252 yards and a touchdown. Newton is averaging only 178 yards and 0.6 touchdowns in the games that they've played against each other. After a nice 6-2 start for the season, the Panthers have unfortunately lost their last two against the Steelers and the Lions. Newton is coming off of a 19-20 loss, where he put up 357 yards and 3 touchdowns on 67% completion.

This is an important game for both teams who have their eyes set on the playoffs. Can the Panthers avenge their loss against the Lions? Watch this Sunday on FOX at 1:00 PM ET.

Can anyone stop the Saints? Bet Your Superbowl Pick!







Green Bay Packers (+3.5) @ Minnesota Vikings (-3.5) - 11/25



These division rivals have met once this year and it resulted in a tie. With the Packers biting at the Viking's heels in the standings, they seem undeterred - winning four of their last six. Just like the Seahawks/Panthers game, the story of this one is the QBs and the wide receivers.

Kirk Cousins had a slightly rough game in a losing effort against the Chicago Bears where he went 30/46, with two touchdowns and two interceptions. The Packers of course, have Aaron Rodgers who is also coming off of a losing effort against the Seattle Seahawks, where he threw 21/30 with 332 yards and 2 touchdowns. Stefon Diggs and Adam Thielen have been important pieces for the Vikings, with Diggs notching 13 receptions for 126 yards.

It will be interesting to see how this match pans out with the Packers being ranked 5th in pass defense and the Vikings 6th. After this Sunday night game the Vikings have a tough stretch of games where they will face off against Seattle and New England. If the Vikings are wanting to keep their playoff hopes alive then they'll need to start with a win against the Packers. The odds have the Vikings at taking this game and they're going to come out with a grudge in this week two rematch. Tune in to NBC this Sunday at 8:20 PM ET.



Tennessee Titans (+6) @ Houston Texans (-6) - 11/26



The Titans blew out the Patriots 34-10 and then proceeded to get blown out even worse by the Colts the next week, 38-10. Normally when a team gets blown out, they come out the next game with a grudge and looking for a win, but the Titans picked the wrong team to try and get their next win against. After starting the season 0-3, the Texans have proceeded to win seven straight games in spectacular fashion.

Texan's QB, Deshaun Watson, is coming off of a 16/24 game where he threw for 208 yards, a TD and two interceptions in a close win against the Redskins. Marcus Mariota is expected to start for the Tennessee Titans in this Sunday night game. He put up pretty decent numbers in the Titan's win against the Patriots two weeks ago: 16/24, 228 yards and two touchdowns.

The Texans have been on a roll after their rocky start and the odds show the Titans not putting up much of a fight. Tune in to ESPN this Monday night at 8:15 PM ET.


All odds courtesy of Intertops Sports. Betting odds are subject to change.

Bet on the Chiefs and Rams Game at Intertops Sports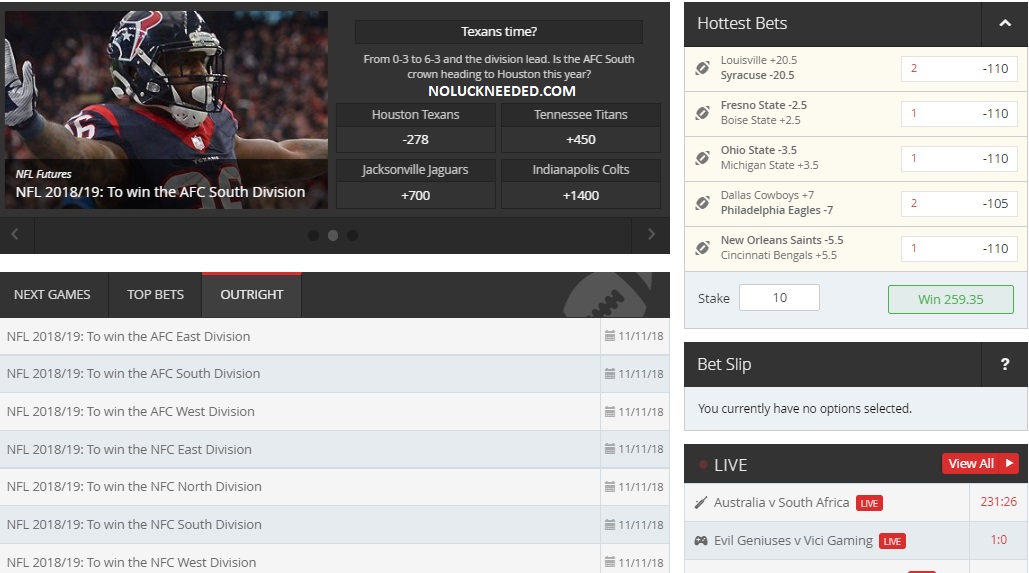 _________________