NFL Week 11 Matchups, Odds, Analysis: Chiefs @ LA Rams
TDTAT
Moderator
Joined: 11 Mar 2006
Posts: 96481
Likes: 40572
Location: Gambleville
2283821.10 NLN Dollars
Tournament Dollars

---
---
NFL Week 11 Betting Odds, Notable Matchups, TV Schedule By Christopher B. Watford for NoLuckNeeded.com



Going into the eleventh week of football there is one key matchup to look out for: the Rams and the Chiefs. Both teams are going into this Monday night matchup with a 9-1 record. The Chiefs have won four in a row, including a big win against the Denver Broncos. After winning the coin toss an improbable 12 times in a row, the Chiefs finally lost a coin toss last week against the Cardinals.

Buckle up, because weíve got some good matchups this week.



Houston Texans (-3) @ Washington Redskins (+3) 11/18



After a slow 0-3 start to the season the Texans seemed to be in a bit of a rut. After the slow start they got blistering hot and are sitting on a nice six win streak going in to Sunday nightís game against the Redskins. With both teams sitting atop their respective division and both with matching records, this game is shaping up to be a pretty good one.

After dealing with injuries for the majority of the last two years, JJ Watt is back in the lineup and heís been dominant. Bustling his way through any o-line in the league, Watt knows how to get it done. Notching up nine sacks through the last seven games, a healthy JJ Watt is not something that any team wants to have to deal with.

One of the key matchups to look out for in this game is the Texans WR, DeAndre Hopkins vs the Redskins CB, Josh Norman. Hopkins is currently fifth in the league for passing yards, with 894 and 7 touchdowns. The man who will be guarding Hopkins throughout the night, Josh Norman, is going to have his work cut out for him - but he has shown that he is capable of doing just that. Being able to read quarterbacks and read passes, Norman has two interceptions on the season. Will the Texans be able to keep their winning streak alive and win by more than three? Theyíre certainly talented enough to do so. Watch this game on CBS this Sunday at 1:00 PM ET.

Which Quarterback Will Get the Most passing Yards This Weekend?






Minnesota Vikings (+2.5) @ Chicago Bears (-2.5) 11/18



A division rivalry is always a great game to end your weekend on. It makes it that much better when both teams are competing for the playoffs. The Bears are sitting on a nice three game win streak and the Vikings are sitting a game behind them.

I wrote about Kirk Cousins being a generational talent at the start of the season and how lucky the Vikings were to have him and Iíve been right for the most part. Cousins has a 71.3% completion rating through the season with 259 completions, a league best. Cousinís dominance is going to be tested in this matchup against the Bears who lead the league in interceptions with 16.

This game is going to be a true battle of defenses with the Bears ranked at fourth and the Vikings at fifth for fewest yards allowed. Watch this Sunday night matchup on NBC at 8:20 PM ET.



Kansas City Chiefs (+3.5) @ LA Rams (-3.5) 11/19



The best matchup of the week couldnít come at a better time. Two of the best teams in the league will be duking it out this Monday - and one of them is going to have to add a number to the loss column. Could this be a preview of the Super Bowl matchup?

This game is jam-packed on both sides of the ball. Two of the best running backs in the league are going head to head, Todd Gurley of the Rams and Kareem Hunt of the Chiefs. Gurley leads the league in rushing yards by a wide margin with 988 yards and Hunt is fourth in the league with 754. The Rams are ranked at second in the league in total offense and the Chiefs are ranked third. Not only is this the best matchup of the week - itís the best matchup of the season. You donít want to miss it. Watch it on ESPN this Monday at 8:15 PM ET.


All odds courtesy of Intertops Sports. Betting odds are subject to change.

Bet on the Chiefs and Rams Game at Intertops Sports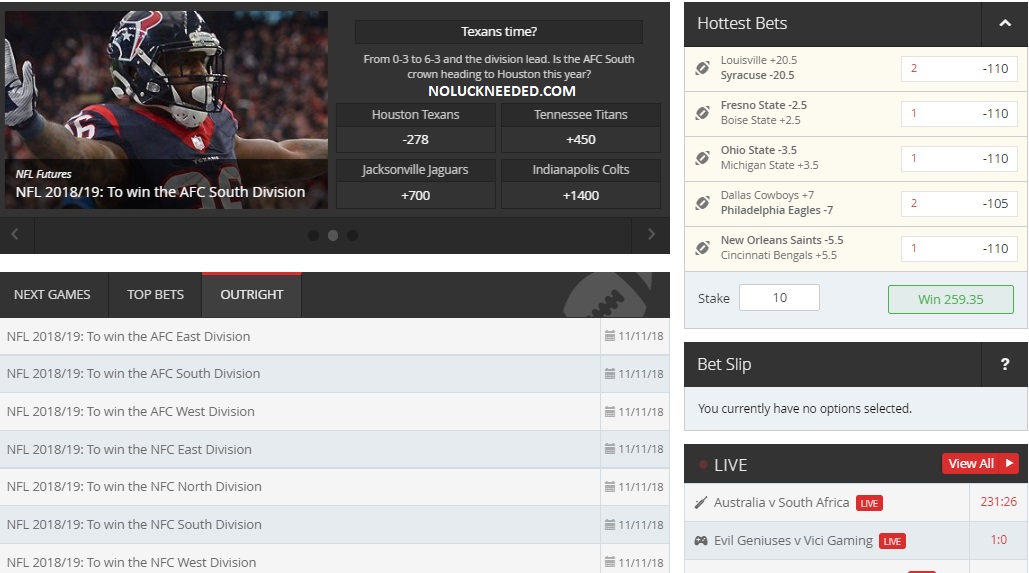 _________________