NFL Week 10 Matchups, Odds, Analysis: Jaguars @ Colts
TDTAT
Moderator
Joined: 11 Mar 2006
Posts: 96462
Likes: 40540
Location: Gambleville
2278671.10 NLN Dollars
Tournament Dollars

---
---
NFL Week 10 Betting Odds, Notable Matchups, TV Schedule By Christopher B. Watford for NoLuckNeeded.com



We're ten weeks into the season; how is your fantasy team stacking up? There have been some pretty interesting outcomes throughout this season and some of them aren't even completely football related. For example, not only are the Kansas City Chiefs 8-1, they're 9-0 in coin tosses, 12-0 if you count the preseason.



Jacksonville Jaguars (+3) @ Indianapolis Colts (-3) 11/11 CBS this Sunday at 1:00 PM ET



One of the most important matchups this weekend comes between two conference rivals. Both teams are sitting at the bottom of their division and if they're wanting to advance at all, this game is a must win. The Houston Texans have a bye-week and they're sitting on a six game win streak. If either of these teams want to crawl out of the hole they've dug, they need to start now - before it's too late. The Jags do have one thing going for them: they don't allow very many passes. They only give up a jaw-dropping 190 yards per game when it comes to passing. The second closest team is the Baltimore Ravens, with 205 yards per game.

After a 1-5 start, the Colts have gone on a nice little two game win streak. Granted, both of those wins came from the Bills and the Raiders, but they're starting to gain a little bit of confidence. Andrew Luck has been firing at a good rate: throwing 4 touchdowns and 156 yards against the Bills and 239 yards and 3 touchdowns against the Raiders. The Colts are predicted to win this game, but the Jaguars have had some stellar defense throughout the season. Do the Jags have what it takes to shut down Andrew Luck? Tune in to CBS this Sunday at 1:00 PM ET.

Can the Redskins Win The NFC East?




Seattle Seahawks (+10) @ LA Rams (-10) 11/11 CBS at 4:25 PM ET

With the Rams losing against the Saints last week there is no longer an undefeated team left in the league. The Seahawks are going to have their hands full this weekend. Not only are the Rams the best offensive team in the league, they're the 5th best passing team and the best rushing team. The Seahawks have some young and promising receivers, but "promising" isn't good enough. They're 27th in the league for passing yards per game and 21st in rushing yards. If the Seahawk's wide receivers can penetrate some of the glaring issues that the Rams defense had last week, then they might be in luck - but I wouldn't count on it. Not to mention the fact that five of the Seahawk's starters are out. Can the Rams blow out the Seahawks by more than 10? In my opinion, yes. Watch this Sunday on CBS at 4:25 PM ET.



New York Giants (+3) @ San Francisco 49ers (-3) 11/12 ESPN at 8:15 PM ET



In a week of lackluster football, we top it off with a matchup of two teams who aren't very good, if I'm putting it nicely. Nick Mullens did however, put up a pretty amazing game against the Raiders last week. Throwing 3 touchdowns for 262 yards on 73% completion isn't anything to scoff at. The Giants are last in the league in sacks and if they aren't able to get their hands on Nick Mullens, then the Giants could see themselves getting blown out like the Raiders last week. Catch this Sunday night matchup on ESPN at 8:15 PM ET.

All odds courtesy of Intertops Sports. Betting odds are subject to change.

Bet on the Texans and the NFL at Intertops Sports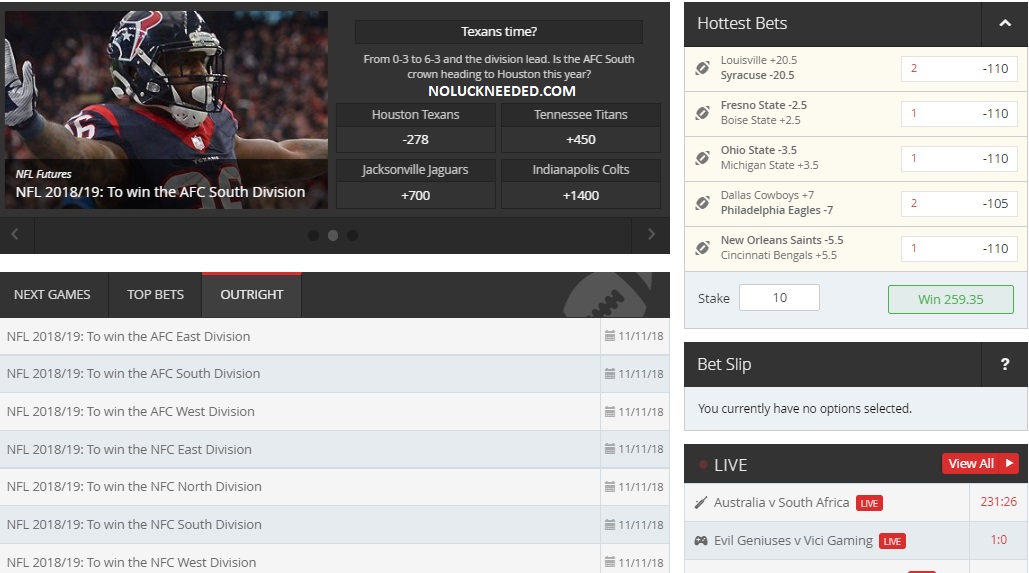 _________________