NFL Conference Championships Odds & Analysis: Rams @ Saints
TDTAT
Moderator
Joined: 11 Mar 2006
Posts: 96481
Likes: 40572
Location: Gambleville
2283821.10 NLN Dollars
Tournament Dollars

---
---
NFL Conference Championships Odds and Analysis By Christopher B. Watford for NoLuckNeeded.com



In what was a slightly lackluster Divisional Round, we've got our matchups for the Conference Championships set in stone. This is going to be an absolutely amazing weekend of football and it's one that you really don't want to miss, even if you're not a fan of the NFL. We've got some great matchups to look forward to: the Rams' secondary vs. Drew Brees, Pat Mahomes vs. Tom Brady, and Cowboys' fans vs. their own livers (sorry Dallas). Get your favorite jersey on, the coolers ready, and the pizza on speed dial, because we've got two exciting games to watch this weekend.



LA Rams (+3.5) @ New Orleans Saints (-3.5) 1/20/19



In a rematch of the week nine matchup (Saints won, 45-35) the Saints and the Rams will battle it out in the Conference Championships. The Rams are fresh off their 30-22 win against the Cowboys and the Saints are coming off of a comeback win against the Eagles. We'll look more in to last week's games in a minute, but each of these teams are avoiding having to play in the Pro Bowl, the only question is: which team has what it takes?

The Rams were able to get help from a few different players in their win against the Cowboys last week. With Jared Goff only having 15 completed passes and 186 yards, C.J. Anderson was able to pick up on some of the slack and grab himself a pair of touchdowns. Todd Gurley managed to have his way with the Cowboys, rushing for 116 yards (average 7.2 per carry) and a touchdown to go with it too.

Drew Brees and co. are coming off a huge win against the defending champs. They managed to crawl out of a 14-point defecit and hold the Eagles scoreless after the first quarter. Drew Brees did his usual thing with 28 completions, 301 yards, and a couple of touchdowns. How did Brees pair up in the first matchup against the Rams? Pretty well, to say the least.

In the week nine matchup Brees put up some absurd numbers: 346 yards and four touchdowns. Brees put the pressure on the Rams and was able to throw a lob to Marcus Peters late in the game to put the dagger into the hearts of LA fans. The Saints go in to this game with the spread on their side and home field advantage on top of it. Luckily for the Rams, they've been to the Superdome once this year and understand what it's like, but what do they need to do to win this game? Simple: stop Drew Brees.

Actually, that's not a very simple task at all, but the Rams have a few players who can make life difficult for Brees. While he's not going to go head-to-head against Brees, C.J. Anderson has proven to be a vital part to the Rams' success in past weeks. Will he be able to make it through the Saints' stifling defense? They've only allowed an average of 49 rushing yards in the postseason.

Aqib Talib and Marcus Peters are the two players who are going to be doing everything they can to stop Brees. Peters struggled in their last matchup against the Saints and without Talib at the time, it led to the Saints taking the victory. These two players are leading the charge for the Rams' secondary and they both need to play perfect defense and attempt to slow down Drew Brees and his insane ability to make passes.

With the responsibility seemingly falling on the shoulders of two players, this is going to be a very close game and one that you really don't want to miss. Place your wager on Intertops.eu today and watch these two teams battle for their chance at the Super Bowl this Sunday on FOX at 3:05 PM ET. Place your wager today at Intertops.

Can Mahomes beat Brady?






New England Patriots (+3) @ KC Chiefs (-3) 1/20/19



According to a poll conducted by sbnation.com, 69.4 percent of people said they wanted to see the Patriots lose this weekend and I mean, who can blame them? If you've been keeping up with these articles you'll know that I despise Tom Brady and the Patriots. Why do I hate the Patriots so much? Because I have a soul. I think I speak for a lot of people when I say that I don't want to see the Patriots in the Super Bowl. I also want to see what Mahomes is capable of on the biggest stage possible.

These two teams have met once already this year in week six where the Patriots squeaked away with a 43-40 win. Mahomes was right in the middle of his spectacular season in this particular game; he threw 23 completions, 352 yards, four touchdowns, and a pair of interceptions. Three of those passes went to the other half of the dynamic duo: Tyreek Hill. Brady rushed for a touchdown that game, but Sony Michel was the catalyst for New England and ended up with two touchdowns and 106 rushing yards.

Both teams are going in to this AFC Championship game off of blowouts: the Chiefs dismantled the Colts, 31-13, while the Pats obliterated the Chargers, 41-28. While Mahomes didn't have his best game last week, but he still managed to pull out the win: throwing for 278 yards on 27 completions. After seeing him throw so many touchdowns this entire season, it was weird to not see him get one in this game, although he did rush for a touchdown. All of the Chiefs' touchdowns last week came off the rushing game.

In normal fashion, Brady went 34/43 while throwing a touchdown and 343 yards. While this is his eighth consecutive AFC Championship game, it's important to note that this game is on the road. Why is that important you might ask? Because the Pats have lost three consecutive AFC Championship games on the road.

The marquee matchup for this game is obvious: Pat Mahomes vs. Tom Brady. I don't even need to say anything about either of these guys for you to know that this is going to be a high-scoring game with some beautiful passes. Not only can Mahomes throw it all the way across the field, he's one of the best QB's when he's on the run. He can literally do everything and it's not very fair to other teams.

This game comes down to the explosiveness of the Chiefs' young QB and the experience of the Patriots' old QB. And while the Chiefs may be favored in the spread, it's tough to bet against Tom Brady. He has the experience but the three consecutive road losses in the AFC Championships is something you want to keep in mind when placing your wager. This is an incredibly tough game to call.

Watch this battle this Sunday at 6:40 PM ET on CBS.


NFL Betting Odds courtesy of Intertops Sports. Betting odds are subject to change.

Claim Your $100 NFL Free Bets at Intertops Sports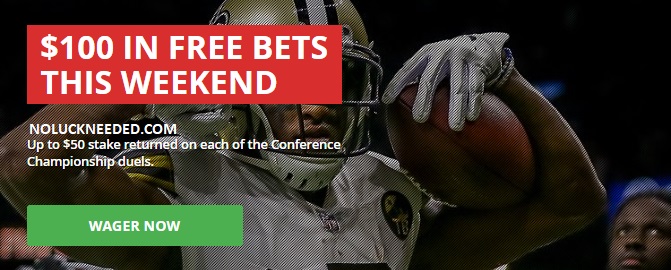 _________________

Last edited by TDTAT on 21.01.2019, 05:00; edited 1 time in total
Joined: 16 Feb 2018
Posts: 510
Likes: 860
Location: Oregon
162540.00 NLN Dollars
Tournament Dollars

---
---
NFL Conference Championships Odds Analysis Rams Saints
Age: 35
Joined: 28 Mar 2019
Posts: 2
Likes: 5
Location: Bulgaria
1050.00 NLN Dollars
Tournament Dollars

---
---