New Multiple Game Play Feature at Realtime Gaming Casinos
TDTAT
Moderator
Joined: 11 Mar 2006
Posts: 100384
Likes: 45457
Location: Gambleville
2917221.10 NLN Dollars
Tournament Dollars

---
---
Realtime Gaming Online Casinos Add Multiple Games Feature - Play Four Games at Once



Everyone knows the best things come in multiples and the gurus at Realtime Gaming Online Casinos have just quadrupled your gaming pleasure with an exciting new Multiple Game Play feature. That's right, you can now play your four favorite games at one time. Simply open your four favorite games and start playing. Create your dream casino in the comfort of your own home by dragging the four game windows around your screen. Bet more, win more, and share your multiple game play comments and reviews below. Good luck!

Play Multiple Games at Slotastic or Your Favorite RTG Casino!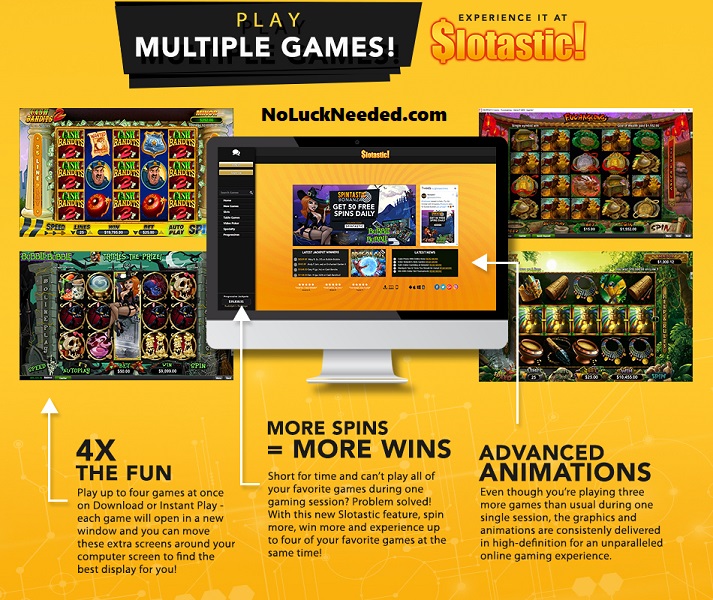 _________________

Joined: 03 May 2006
Posts: 5577
Likes: 4210
1629014.00 NLN Dollars
Tournament Dollars

---
---
DID IT YESTERDAY....IT'S LIKE PLAYING MORE THAN ONE MACHINE AT THE CASINO!!!!!!! NOW i GET TO SPEND DOUBLE THE MONEY, LOL!!!!!
TDTAT
Moderator
Joined: 11 Mar 2006
Posts: 100384
Likes: 45457
Location: Gambleville
2917221.10 NLN Dollars
Tournament Dollars

---
---
RGALP

, Dangerous!

_________________