NBA Matchups, Odds, and Analysis 11/2-11/4: Raptors @ Lakers
TDTAT
Moderator
Joined: 11 Mar 2006
Posts: 96481
Likes: 40572
Location: Gambleville
2283821.10 NLN Dollars
Tournament Dollars

---
---
NBA Matchups and Analysis Games By: Christopher B. Watford for NoLuckNeeded.com



What an absolutely insane week for the NBA. Teams have been breaking records left and right and thereís no sign of slowing down. When I say ďteamsĒ Iím really only talking about one team - the Golden State Warriors. It seems like Steph has used a time machine and is playing at the level that he did during his 2015-2016 MVP season. Klay Thompson was going through a slump for the first few games of the season and snapped out of it, dropping 50 points to go along with a record breaking 14 threes in less than 30 minutes of play. Things are still looking up for some of the ďnormalĒ teams around the league. The Bucks remain undefeated and while the Lakers are struggling through the first few games of the season, LeBron is averaging 27/8/9. The Warriors are looking like theyíre going to waltz their way to the finals for the umpteenth time in a row, letís look at the rest of the league and pretend that things are going to be different this year.



OKC Thunder (2-4) @ Washington Wizards (1-6) 11/2 ESPN this Friday at 8:00 PM ET



Less than 10 games into the season and the Wizards dysfunction is already showing. Scott Brooks has shown time and time again that heís an incompetent coach with no signs of changing. They do have one bright spot that Brooks always seems to gloss over: Otto Porter Jr. The Wizards are paying Porter an exuberant 4yr/$106m and he deserves it -- if Scott Brooks put the ball in his hands more. The majority of the teams shots are given to the backcourt, with Wall taking 17 and Beal taking 18. Porter is only playing three fewer minutes than Wall and Beal but heís only taking 10 shots a game.

The Thunder arenít playing much better than the Wizards, either. With a record of 2-4 and two sub-100 point games. And while this is a battle of two struggling organizations there are a few good matchups to keep your eye on. Dwight Howard is planning to make his return in this Friday night matchup and he will be going head-to-head with star center, Steven Adams. The last time that Wall and Westbrook went against each other, Westbrook dropped 46 points. Westbrook is about due for another superstar performance this season and he might bolster his team to their third win of the season. Tune in to ESPN this Friday at 8:00 PM ET and see if the Thunder can get their stroke going again.

Will the Bucks win the Central Division?






Boston Celtics @ Indiana Pacers 11/3 NBATV this Saturday at 7:00 PM E



While a lot of people like to talk trash about the Eastern Conference and its lack of competitiveness, there are a few teams that are true powerhouses. The Pacers have been one of my dark horse teams over the past couple of years with their addition of Victor Oladipo in 2017-2018 and their recent addition of former ROTY, Tyreke Evans. With the loss of LeBron James, the Pacers have a chance to be one of the best teams in the East. Both teams are pretty guard heavy, but the Celtics have the advantage with their forwards. While Gordon Hayward is easing himself into the lineup the Celtics still have soon-to-be superstars Jaylen Brown and Jayson Tatum. Some of the key matchups to watch for this game are Kyrie Irving and Victor Oladipo, alongside Jaylen Brown and Tyreke Evans. Check out NBATV this Saturday at 7:00 PM ET and watch these two powerhouses collide.



Toronto Raptors @ LA Lakers Sunday on SPEC or NBA League Pass 9:30 PM ET



I mentioned previously that the Lakers have been struggling throughout the season a little bit, but itís not much to worry about. LeBron being in the Western Conference is a drastic difference compared to being in the East. In the East, LeBron was able to coast (if you want to call it that) and save all of his energy for the playoffs. Heís not able to do that as much in the West. Saying LeBron is coasting is a bit of a stretch though, heís averaging 27/8/9 for the season but that still hasnít been enough to lead his team to a better record. LeBron could realize that they wonít able to make the playoffs this year, but missing the playoffs isnít something the Lakers need to worry about. All of the Lakers young players are playing with the best player in the world night in and night out and itís a great year for player development. The recent signings that the Lakers have done are all one year deals and next year they will have two max contract spots in a year where numerous superstars will be entering free agency.

The Raptors have been one of the best teams in the league so far and the addition of Kawhi Leonard and Danny Green is one of the best things the Raptors have done in recent years. Will LeBron live up to his reputation of being the Raptors killer this Sunday? Itís going to be difficult with Kawhi clamping him down on every possession but itís possible. The Raps are one of the best defensive teams in the league and the Lakers are going to have their work cut out for them. Watch this matchup this Sunday on SPEC or NBA League Pass 9:30 PM ET.


(Check NBA game odds at Intertops Sports Betting)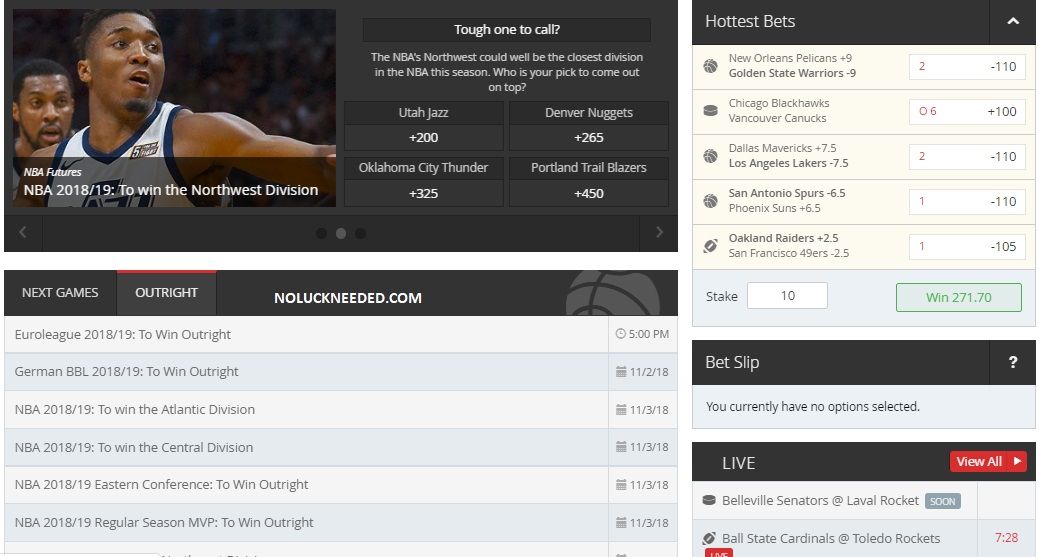 _________________