NBA Matchups, Odds, Analysis 11/9-11/11: Celtics @ Jazz
TDTAT
Moderator
Joined: 11 Mar 2006
Posts: 96481
Likes: 40572
Location: Gambleville
2283821.10 NLN Dollars
Tournament Dollars

---
---
NBA Matchups and Analysis November 9th - November 11th, 2018 By: Christopher B. Watford for NoLuckNeeded.com



Another week of buzzer beaters, posters, and high scoring games - whatís not to love about basketball? The biggest highlight for this season so far is Derrick Roseís 50 point game, no question. After everything that Rose has been through in his time in the NBA, watching him score a career high 50 points will put a couple of tears in your eyes. With the amount of 40+ point performances weíve seen around the league so far, whoís up next? Letís take a look at this weekís upcoming matchups and see.



Boston Celtics (6-4) @ Utah Jazz (5-6) - 11/9 ESPN at 9:30 PM ET



Two of the most exciting teams in the league are going to be duking it out this Friday and itís a matchup that you donít want to miss. Many thought that Gordon Hayward leaving was going to be the death of the Utah Jazz, but Donovan Mitchell didnít let that happen. Catapulting his team over the Thunder in the 2018 playoffs, Mitchell was a forced to be reckoned with. The one downside to Donovan Mitchell is that heís a volume scorer. He can kill your team when heís on fire, but he can also kill the Jazz when heís going 7/23 (granted, it was versus the Warriors and they only lost by one). He averaged 17 shots per game in his first year and heís averaging 20 shots through 8 games on slightly worse shooting.

One of the biggest matchups is Gordon Hayward vs. the Utah Jazz crowd. If you remember the first game of last season, Hayward suited up for about five minutes in his new green jersey against Cleveland before snapping his ankle in an attempt to catch an alley-oop pass. Hayward sat out for the entirety of the 2017-2018 season. Hayward is slowly working his way back into the Celticís lineup, but injury or not, Jazz fans arenít likely to welcome Hayward with open arms. Tip off will be on ESPN at 9:30 PM ET.

Will the Celtics Win their Division?






Houston Rockets (4-5) @ San Antonio Spurs (6-4) - 11/10 NBATV at 8:30 PM ET



After a rocky start to the season, the Rockets seem to be pulling themselves together. They started the season 1-5 and have won their last three. Could this short win streak be a fluke? Possibly. Two of the three wins were against the Bulls and the Nets - with both teams struggling over the past couple of years. Things have been pretty rough for the Rockets but it likely wonít stay that way. Carmelo Anthony might learn how to play basketball again and the Rockets can possibly acquire Jimmy Butler.

The Spurs continue to show that no matter the problem, they can work through it. After nearly an entire year of Kawhi Leonard sitting out and his entire uncle debacle, the Spurs continued to stay successful. And with the recent loss of Danny Green and Kawhi Leonard, Gregg Poppovich continues to show why heís one of the greatest coaches of all time. DeMar DeRozan has meshed perfectly into the Spursí lineup and is averaging a career best in every major stat category. Do the Rockets have what it takes to get back on their feet and slow down Popís mastermind offense? Watch this Saturday on NBATV at 8:30 PM ET and see for yourself.



Atlanta Hawks ( 3-8 ) @ LA Lakers (5-6) - 11/11



While the Lakers were struggling through the first few games of the season, theyíve started to pick things up recently. It shouldn't come as a surprise that LA got off to a slow start, considering they changed their roster practically overnight. The Lakers recently acquired a halfway decent asset in Tyson Chandler. 36 year old Tyson Chandler was picked up from the Phoenix Suns and he fills in a crucial hole of the Lakerís roster: the center position. Chandler may be old, slow, and canít defend very well but heís a huge improvement from the Lakers running Kyle Kuzma at the five position. In Chandlerís first outing with the Lakers he scored 2 points to go along with 9 rebounds. That may not seem very good at first glance, but the Lakers were in desperate need of someone who can come off the bench, box out, and grab a couple of rebounds - and he does just that.

Luke Walton will be able to toy around with lineups and roster adjustments in this Sunday night matchup against the Hawks. In a game that the Lakers should win pretty easily, itíll be interesting to see what Luke Walton can come up with. If youíre a Lakers fan, donít let the slow start discourage you, things will start to pick up and players will start to mesh together. The Lakers are going to be running into the easy part of their schedule over the next week and it starts with the Hawks this Sunday on FSSE, SPEC or NBA League Pass at 9:30 PM ET.

(Check NBA game odds and updates at Intertops Sports Betting)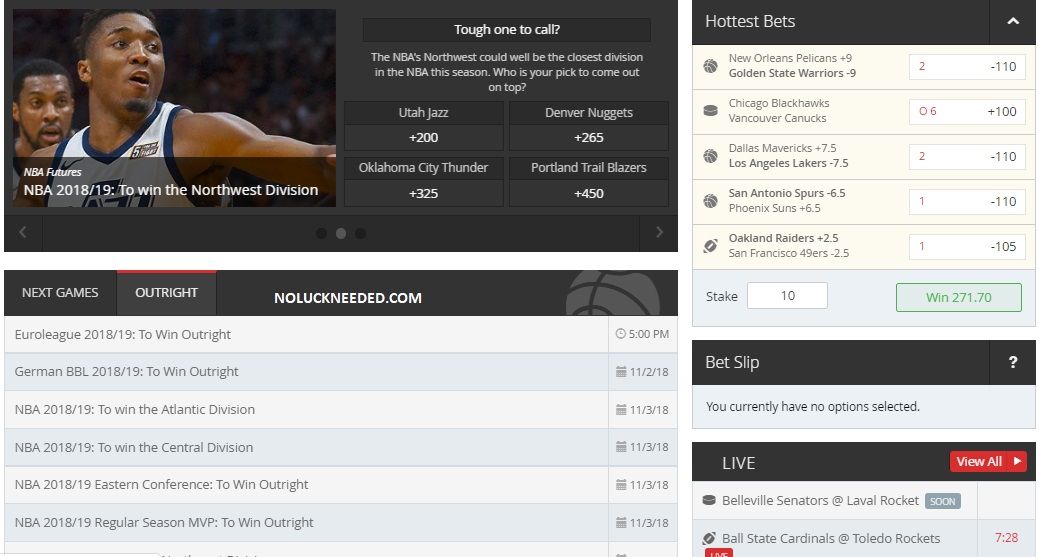 _________________