NBA Matchups, Odds, Analysis 11/7-11/19: Lakers @ Magic
TDTAT
Moderator
Joined: 11 Mar 2006
Posts: 96460
Likes: 40538
Location: Gambleville
2278471.10 NLN Dollars
Tournament Dollars

---
---
NBA Matchups and Analysis November 17th - November 19th, 2018 By: Christopher B. Watford for NoLuckNeeded.com



There's one major highlight for this week: the Warriors drama. Draymond Green was suspended without pay by his own team, due to a scuffle that him and teammate, Kevin Durant got in to on their Monday night matchup against the Clippers. Green reportedly called Durant a "bitch" multiple times, emphasized the fact that they were winning before Durant joined the Warriors, and brought up Durant's upcoming free agency.

The 2019-2020 season could bring a major change to the Warrior's starting lineup with Klay Thompson and Kevin Durant both becoming free agents and with KD and Green butting heads so early in the season and a contract year looming in the near future, could this mean the end of the Warriors dynasty? We can only hope. While we wait for the Warriors to crumble, let's take a look at this week's upcoming matchups.



LA Lakers (8-6) @ Orlando Magic ( 7-8 ) - 11/17 NBA League Pass 7:00 PM ET



Another day, another record LeBron has broken. What can't this man do? Aside from hitting free throws in the clutch, LeBron can do it all. James broke in to the top five all-time scoring leaders this Wednesday against the Trailblazers, where he was even more unguardable than usual. He notched up a statline of 44/10/9 on 13-19 and 5-6 from three. James needed 39 points to beat Wilt's scoring record, but scoring exactly 39 isn't the LeBron way - he had to go out and prove all of the haters wrong and had his best shooting night of the regular season. With the 126-117 win over the Blazers, the Lakers have gone on to win four in a row after a slow start.

The Magic have had a pretty good start to the season - spoiling Jimmy Butler's 76er debut in a 111-106 win. The Magic have a tendency to start the season off hot and then slowly fizzle out in to mediocrity, but things have been going pretty well for them this year. They're sitting a win below .500 but they have strung together some pretty decent wins against the Spurs and the 76ers. If you took all of the "somewhat decent" players from various teams around the league and put them on an NBA team you'd have the Orlando Magic. LeBron and co. have been on a hot streak with some streaky offense and the Magic don't look to pose much of a threat. Tune in to SPEC, FSFL, or NBA League Pass this Saturday at 7:00 PM ET.

Will King James be Crowned MVP Again?





Golden State Warriors (12-3) @ San Antonio Spurs (7-6) - 11/18 NBATV at 7:00 PM ET



I've already mentioned the hopeful demise of the Golden State Warriors, but what I would like to see more than that is the Spurs to continue their greatness. Try not to focus on the loss of Kawhi Leonard but focus on the addition of DeMar DeRozan. DeRozan has had a little bit of trouble adjusting to Pop's offense, which is understandable. Dwayne Casey was a fantastic coach during his time in Toronto, but Pop is on an entirely different level. Being a primary ball handler and moving to a new team with an elaborate offensive scheme is bound to cause trouble for even the best players in the NBA. DeRozan has 15 turnovers over the past four games.

Yes, the Warriors are the better team, but that doesn't mean you should count out Pop. The Warriors have only lost three games and have had a few close games against lottery teams. Watch this Sunday night matchup on NBATV at 7:00 PM ET.



OKC Thunder (9-5) @ Sacramento Kings (8-6) - 11/19 NBATV 10:00 PM ET



The King's success early in the season has come to a surprise to quite a few NBA fans. Kings fans have had to deal with their team battling for lottery picks year in and year out, but things are finally starting to look up for them. Unfortunately for them, Russell Westbrook is going to be coming back to the OKC starting lineup for this Monday night game. Westbrook is about due for his first triple double of the season, but could it come against the Kings?

The Kings are third in the league for 3 point percentage and they have a few players shooting consistently over 40 percent. Could De'Aaron Fox continue his hot shooting streak and spoil Westbrook's potential return? Tune in to NBATV this Monday at 10:00 PM ET and see.

(Check NBA game odds and updates at Intertops Sports Betting)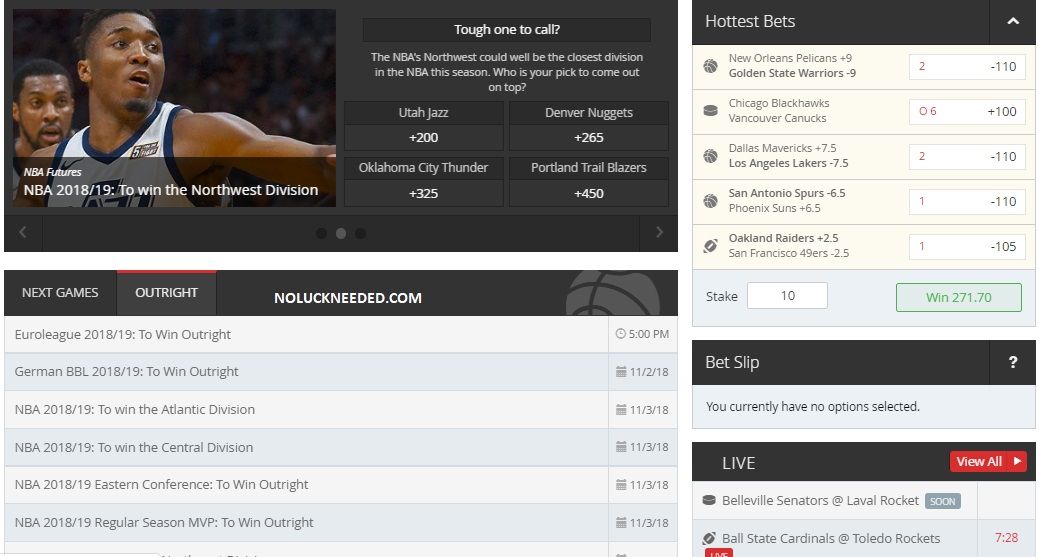 _________________