NBA Matchups, Odds, Analysis 11/30-12/02: Blazers @ Spurs
TDTAT
Moderator
Joined: 11 Mar 2006
Posts: 96481
Likes: 40572
Location: Gambleville
2283821.10 NLN Dollars
Tournament Dollars

---
---
NBA Matchups and Analysis November 30th - December 2nd, 2018 By: Christopher B. Watford for NoLuckNeeded.com



This past week of basketball has beenÖ Interesting, to say the least. Dwight Howard is in the midst of a scandal, Jimmy Butler hit a couple of game winning shots, Dirk Nowitzki was given the key to the city, Blake Griffin is returning to his old form, Luka Doncic has been a madman, and the Wizards dysfunction continues. The drama never ends in the NBA and neither do the exciting matchups. Letís take a look at this weekís.



Dallas Mavericks (10/9) @ LA Lakers (11-9) - 11/30



The Mavericks are coming fresh off a win against the Houston Rockets, where they demolished them with a final score of 128-108, bringing the Rockets their eleventh loss of the season. The Lakers have finally started to mesh and went on an 8-game win streak, but unfortunately for them, they have lost their last two games, against the Nuggets and the Magic.

A couple of key matchups to look out for in this game is Dennis Smith Jr. vs. Lonzo Ball and Tyson Chandler vs. Denadre Jordan. While Lonzo has been able to increase his shooting stats, his overall stats have slightly dropped. In his rookie year he averaged 10/7/7 on an abysmal shooting split of .36/.30/.45. Ball has increased his shooting splits this year to .40/.35/.57 while maintaining solid defense through the first 20 games.

While there was a little bit of drama that broke out of the Maverickís locker room concerning Deandre Jordan and how much heís handling the ball this year, he has been a large part to the Mavís success, averaging 11 points and 13 rebounds.

The Mavericks have a 2-7 record on the road and with the Lakers firing on all cylinders, Dallas might have their work cut out for them. Tune in to SPEC or NBA League pass this Friday at 10:30 PM ET.

Who will be crowned MVP?





Boston Celtics (11-10) @ Minnesota Timberwolves (11-11) - 12/1



The Celtics have continued to under perform this season, but considering they are in a weaker conference, they donít have a whole lot to worry about. Hayward is still integrating his way in to Brad Stevenís system and learning to play alongside Kyrie Irving. Celtics small forward, Jayson Tatum has avoided a sophomore slump this year where he has improved his scoring and other major stats to start the 2018-2019 season.

The resurgence of Derrick Rose continues to be one of my favorite stories in basketball. After his awful injuries that he sustained and him struggling to find a team to stay with, Rose is having another breakout season - seven years after winning MVP. Not only is Rose averaging nearly 20 points a game, he is the 4th best three point shooter in the league.

While the Celtics continue to struggle to start the season, the Timberwolves have been beating expectations, especially after the Jimmy Butler mayhem that unfolded earlier this season. With a 9-3 record at home and a four game win streak, the Wolves have found success in their newly obtained players, Robert Covington and Dario Saric. They also boast the best defensive rating in the league since the trade.

Can the Celtics gain some momentum and take down the new-and-improved Minnesota Timberwolves? Watch this Saturday on NBATV at 8:00 PM ET.



Portland Trail Blazers (13-8 ) @ San Antonio Spurs (10-11) - 12/2



While this isnít a nationally televised matchup, itís certainly going to be an entertaining one. The Spurís home court advantage may not be as unstoppable as it was in the 2015-2016 season (40-1 record at home), they still boast a 6-3 home record to start the season.

The most noteworthy matchup for this game is the battle of the two back courts. The Blazerís back court has been incredible for the past few years, with Damian Lillard at the one and C.J McCollum at the two. Surprisingly, the Spurs have been pretty dominant with their back court of Bryn Forbes and DeMar DeRozan. Forbes is not a name that youíve probably heard very often, but heís a name that youíre going to get to know eventually. In only his third year in the league, Forbes is averaging 13 points and 45% from three with 5.2 attempts per game. In his last five games, Forbes is shooting 50% from the three point line.

Watch these two tantalizing back courts battle it out this Sunday on NSNW, FSSW, and NBA League Pass at 7:00 PM ET.

(Check NBA game odds and updates at Intertops Sports Betting)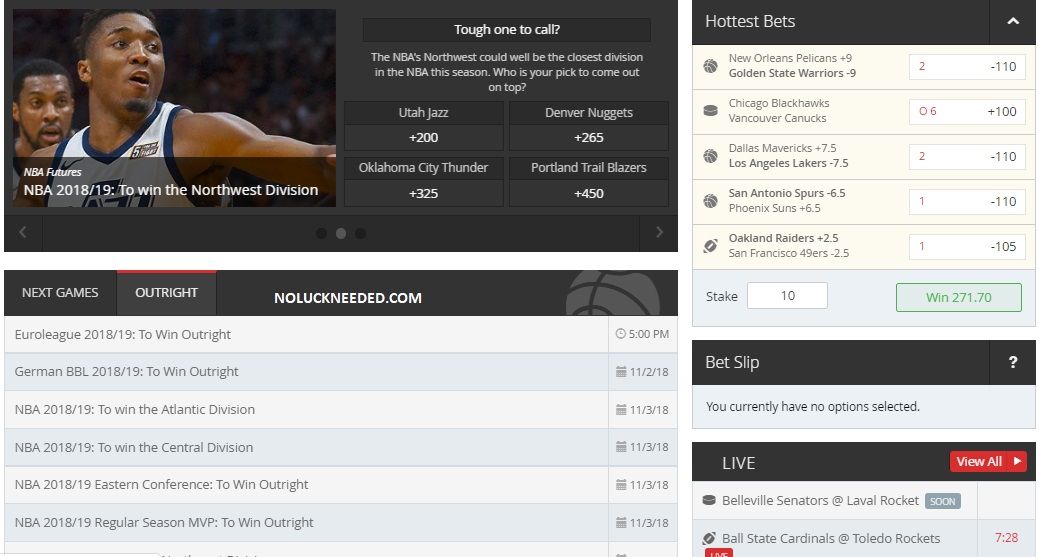 _________________