NBA Matchups, Odds, Analysis 11/23-11/25: Blazers @ Warriors
TDTAT
Moderator
Joined: 11 Mar 2006
Posts: 96481
Likes: 40572
Location: Gambleville
2283821.10 NLN Dollars
Tournament Dollars

---
---
NBA Matchups and Analysis November 23rd - November 25th, 2018 By: Christopher B. Watford for NoLuckNeeded.com



Another week gone and another week of incredible basketball. Letís do a short recap of this last week of NBA basketball. Kevin Durant got into a scuffle with one of his own fans, LeBron received a standing ovation in Cleveland, reached 5th in the all time scoring list, and scored 51 points against the Miami Heat. The Washington Wizards continue to fall apart and the Utah Jazz lost by 50 points to the sub .500 Dallas Mavericks. With Thanksgiving right around the corner, letís stuff our stomachs as much as possible and look at some NBA matchups for this weekend.



Utah Jazz (8-10) @ LA Lakers (10-7) - 11/23



The former powerhouse of the West - the Utah Jazz - have had a swift fall to the bottom half of the Western Conference. By no means are they a bad team, just simply underperforming.

Iíve mentioned that Donovan Mitchell is a volume scorer and that was prevalent in Utahís 107-113 loss against the 76ers last week. Mitchell took a whopping 35 shots (made 13) and had a nice, round zero in the assist category. Quin Snyder spoke on Mitchellís quantity of shots and said "the last thing we need from Donovan is for him to feel somehow that him shooting the ball is a selfish act, because him not shooting is more selfish given his role on the team."

LeBron James made his first return to the Cavs after departing in this yearís free agency and was met with a warm welcome and a standing ovation. One of my personal worries going in to this season was how Cleveland fans would treat LeBron when he returned, but it was nothing but smiles and cheers all around. James brought the city of Cleveland a much needed championship and gave the Cavs some of their best years, and Cleveland fans are incredibly grateful for it.

A couple of key matchups to look out for this game is Donovan Mitchell vs. Brandon Ingram and Rudy Gobert vs. Tyson Chandler. Even if Mitchell is having an off night, you just know that heís going to come out the next game seeking revenge. Can Donovan Mitchell hoist his team to victory and defeat the Lakers while they are starting to gain traction? Watch on NBATV this Friday at 10:30 PM ET.

Will Lebron James be Crowned MVP Again?



Portland Trail Blazers (12-6) @ Golden State Warriors (12-6) - 11/23

Weíre about a month in to the regular season and some of the standings are pretty shocking. The Grizzlies - who won 22 games last season - are currently sitting atop of the western conference with the Blazers sitting half a game beneath them, tied with the Warriors. While Steph Curry is out and Kevin Durant canít keep his mouth shut, this is the time for Damian Lillard to shine.

Sitting on a four game losing streak, the Warriors have shown that they are in desperate need of Steph Curry to return to the starting lineup. In their four game losing streak, they only managed to put up over 100 points once - against one of the weaker defenses in the league: the Dallas Mavericks.

Damian Lillard is about due for a 40+ point performance and he always seems to do well against the Golden State Warriors, with a 51 point game a couple of years back. Itís unfortunate for the fans that we wonít get to see Damian Lillard face off against Steph Curry while he is still out for at least three more weeks with a groin injury.

The Blazers were just stomped by the Bucks in a 143-100 loss, so theyíre looking at redemption and are going to attempt to rout the Curry-less Warriors. Tune in to NSBA, NSNW, or NBA League Pass this Friday at 10:30 PM ET.



San Antonio Spurs (8-9) @ Milwaukee Bucks (13-4) - 11/24



Ever since they fired head coach Jason Kidd and replaced him with Mike Budenholzer, the Bucks have really kicked it into gear. Coach Bud has found and utilized the Buckís three point threats and has completely scrapped the mid range shot in favor of dunks and three pointers. While itís a relatively small sample size and weíre still early in the season, the Bucks have raised their average points per game from 106 to a whopping 120.

Iíve mentioned DeMar DeRozan and his new team multiple times, but he is starting to really mesh with them. Heís averaging close to a career high in points and although heís coming off of a slow game against the Pelicans, he still managed to put up 21/5/6. LaMarcus Aldridge on the other hand, was practically playing for the Pelicans with how he shot: 2/11, 7 points, and rather lackluster defense.

The Bucks have been on a tear and itís going to be difficult for the Spurs to take this game on the tail end of a back-to-back. Tune in to NBATV this Saturday at 8:30 PM ET and see if the Spurs can take a game from one of the hottest teams in the league.


(Check NBA game odds and updates at Intertops Sports Betting)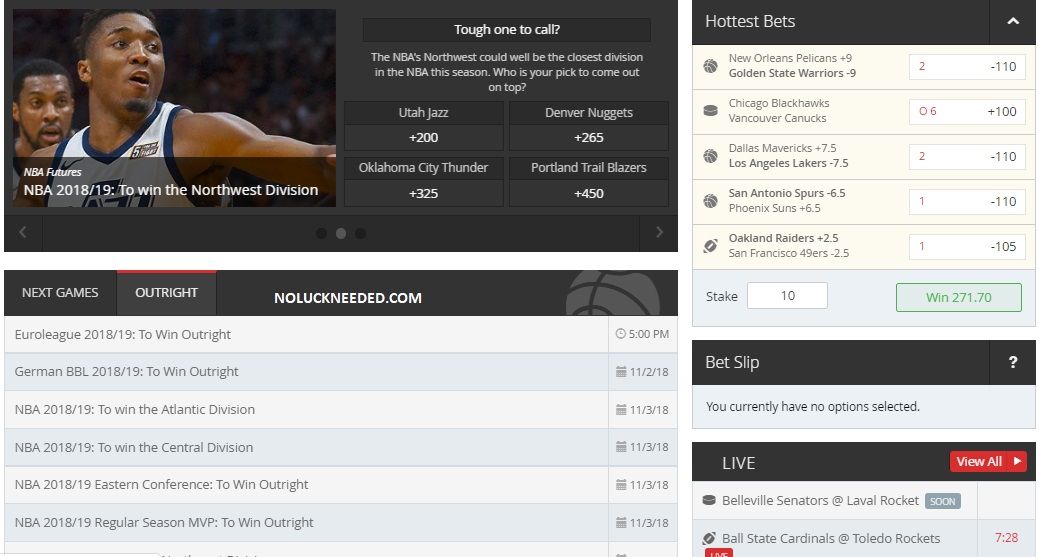 _________________