MLB Postseason 2018 Update: Yankees @ Red Sox 10/5 on TBS
TDTAT
Moderator
Joined: 11 Mar 2006
Posts: 80964
Likes: 19665
Location: Gambleville
2369655 NLN Dollars
Tournament Dollars

---
---
MLB Postseason October 2018 New York Yankees @ Boston Red Sox 10/5 by Chirst Watford for NoLuckNeeded.com



A rivalry as old as time itself, two teams with some of the classiest fans in the league are going to duke it out this Friday and hurl insults and beer at each other in what will likely be a 8 hour long game. Joking and hatred for the Yankees aside, this is going to be only the fourth time these teams have ever matched up against each other in the playoffs after the Yankees defeated the A's in the wild card game, 7-2. The Yankees pitcher has yet to be announced, but Chris Sale will be throwing the first pitch for the Sox. Sale has pitched at a high level against the Yankees this year, where he allowed one run and struck out 19 over 13 innings. Catch this important rivalry game this Friday on TBS at 7:32 PM ET.


Bet on the Yankees and Red Sox at Intertops Sports!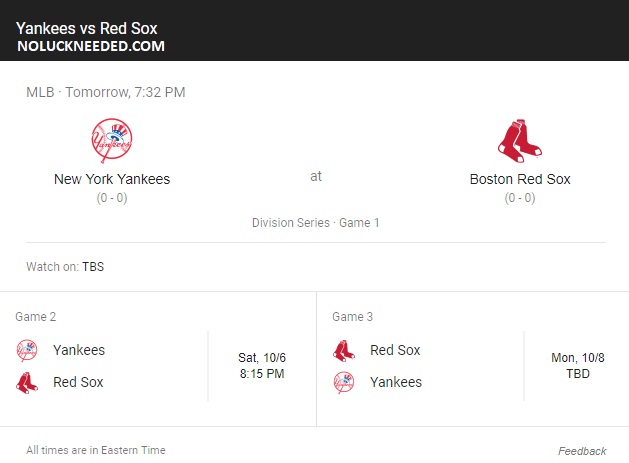 _________________