Las Vegas Casinos Reopening Date Target June 4th, 2020
Joined: 11 Mar 2006
Posts: 87121
Likes: 28467
Location: Gambleville
668471.10 NLN Dollars
Tournament Dollars

---
---
Las Vegas Casinos Hope to Reopen June 4th, 2020



As some brick and mortar casinos open around the United States during the coronavirus pandemic, Las Vegas eyes June 4th, 2020 as a possible re-opening date. If the testing and infection rate data continues downward trends through Memorial Day weekend, Nevada Governor Steve Sisolak is expected to announce additional reopening plans on Tuesday, May 27th. On May 20th, 7.7% of the 3,657 tests conducted statewide returned a positive result which continues the downward trend. At its peak, the Nevada infection rate was 12%, reports the Las Vegas Sun.

Las Vegas resorts must submit reopening safety plans to the Nevada Gaming Control board for approval at least one week before they reopen. Much like the first phase of Nevada's reopening earlier in May, crowds and capacity will be capped and reduced. Restaurants are currently operating at 50%.

Companies in the resort corridor and on the famous Las Vegas strip will start by only opening a handful of properties. Caesars Entertainment has announced they will start with Caesars Palace and Flamingo; MGM Resorts International will start by opening the Bellagio and New York-New York.

Hard Rock Casino Tampa, Florida re-opened on Thursday, May 21st, 2020 with new covid19 safety restrictions including temperature checks, mask requirements for guests and staff, increased cleaning, reduced gaming capacity, and glass dividers at gaming tables. There was a high demand for poker seats in Tampa with 18 tables open for play on Thursday and over 100 degens waiting for a poker seat, according to reports on twitter and the picture below. Wary gamblers and Las Vegas casinos will surely eye Hard Rock Tampa's re-opening for signs of trouble, increased infections, and success.



May 21st, 2020 - Poker room at Hard Rock Tampa Re-Opens with covid-19 safety precautions and a long wait list.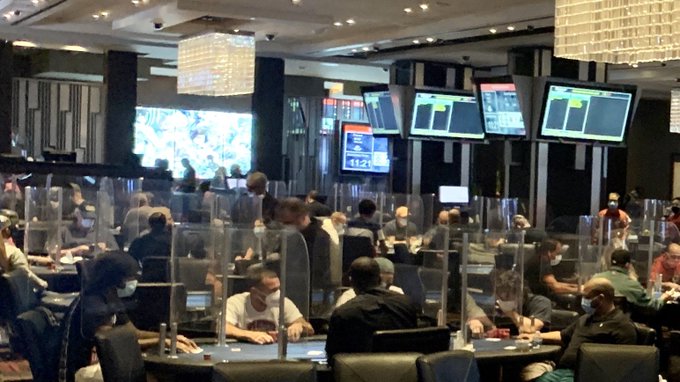 _________________

Age: 68
Joined: 26 Jan 2007
Posts: 7329
Likes: 10779
Location: Florida
3469945.00 NLN Dollars
Tournament Dollars

---
---
That is my nearest casino , not sure I am ready to go yet lol
Joined: 11 Mar 2006
Posts: 87121
Likes: 28467
Location: Gambleville
668471.10 NLN Dollars
Tournament Dollars

---
---
« lunadelmar » wrote:
That is my nearest casino , not sure I am ready to go yet lol


Agreed. If I go to the casino then I have to stay in a hotel and that means elevators and a lot of people all around breathing the same air.

_________________

Age: 51
Joined: 28 Apr 2010
Posts: 8676
Likes: 10223
Location: Reno,Nevada
3365273.00 NLN Dollars
Tournament Dollars

---
---
AM TO SCARED TO GO TO A CASINO EVEN THOUGH AM DYING TO GO AND GAMBLE. I GUESS IT'S A CATCH 22...LOL DAMNED IF YOU DO AND DAMNED IF YOU DON'T.
Joined: 11 Mar 2006
Posts: 87121
Likes: 28467
Location: Gambleville
668471.10 NLN Dollars
Tournament Dollars

---
---
The station casinos (Red Rock, Green Valley Ranch, Sante Fe, Boulder Stations, ect) sent an email saying they were opening on June 4th. I do not see a mask requirement for guests as the other casino groups are requiring. I see nothing about their air systems or filters that the other casinos were talking about and have installed which concerns me personally as I worry about the air exposure over a period of time playing more than touching something and getting infected.

"Station Casinos LLC (the "Company") announced today extensive new health and safety standards and protocols, as it prepares to reopen its properties when permitted by governmental authorities. As the Company prepares to reopen, the number one priority has been, and will continue to be, the health and wellbeing of its team members, guests and the entire Las Vegas community.

To that end, and working closely with outside medical experts, the Company has enhanced its already high health and cleanliness standards and protocols for all of its properties moving forward. The Company is committed to providing the most safe and secure environment possible for both its team members and guests. Highlights of the new standards and protocols include:"

All team members will be required to undergo FDA-Authorized COVID-19 testing prior to returning to work and will be tested at regular intervals thereafter.
State-of-the-art thermal scanners will be installed at all guest and team member entrances at all resort properties.
All team members will be required to wear PPE consistent with health authority guidelines and masks will be available to guests upon entering the property.
Touch-free hand sanitizing stations will be installed throughout the property.
Enhanced cleaning technologies, such as electrostatic sprayers and hospital-grade disinfectants, will be utilized throughout the property.
The visibility and frequency of cleaning will be significantly increased throughout the public and non-public areas of the property.
And all team members will receive rigorous training on the Company's new health and cleanliness standards and protocols.
Importantly, these new standards and protocols will meet or exceed the highest standards set by federal, state and local authorities and will be adapted as circumstances require. To view a copy of the plan, please click here to download the PDF.

_________________

Joined: 11 Mar 2006
Posts: 87121
Likes: 28467
Location: Gambleville
668471.10 NLN Dollars
Tournament Dollars

---
---
Vegas is open! I did not see much social distancing on tables in picks but a lot of people are in masks. Good luck, y'all!

_________________