Hossein Ensan Wins the World Series of Poker and $10,000,000
TDTAT
Moderator
Joined: 11 Mar 2006
Posts: 94511
Likes: 38072
Location: Gambleville
1956221.10 NLN Dollars
Tournament Dollars

---
---
$10,000,000 WSOP Main Event Winner Hossein Ensan



Hossein Ensan has won the World Series of Poker Championship and $10,000,000! Ensan started the final table with a chip stack that doubled his closest challenger and no one could catch him. Ensan, a German poker pro, beat the field of 8,659 players to take home the bracelet. The 55-year old is the oldest player to win the Main Event in 20 years. Noel Furlong was 61 when he won the 1999 WSOP main event. Second place and 6 million went to Sario Sammartino and everyone who made it to the final 9 won at least a million in prize money.

The WSOP main event $10,000 buy in started on Wednesday, July 3rd. The massive field of 8,659 was divided into 3 starting flights over 3 days. The full remaining field combined on Day 3 on July 8th and played down to the final 9 on Day 7. After a press day off on Saturday, the official final table started Sunday evening. Hossein Ensan held the lead and maintained the lead throughout play on Sunday and Monday. Four players were eliminated Sunday night, and another two on Monday, leaving Sammartino, Ensan, and Livingston to battle it out for the bracelet on Tuesday, July 16th.




WSOP 2019 final table results:



1st place – Hossein Ensan (Germany) – $10,000,000
2nd place – Sario Sammartino (Italy) – $6,000,000
3rd place – Alex Livingston (Canada) – $4,000,000
4th place – Garry Gates (United States) - $3,000,000
5th place – Kevin Maahs (United States) – $2,200,000
6th place – Zhen Cai (United States) – $1,850,000
7th place – Nick Marchington (United Kingdom) – $1,525,000
8th place – Timothy Su (United States) – $1,250,000
9th place – Milos Skrbic (Serbia) – $1,000,000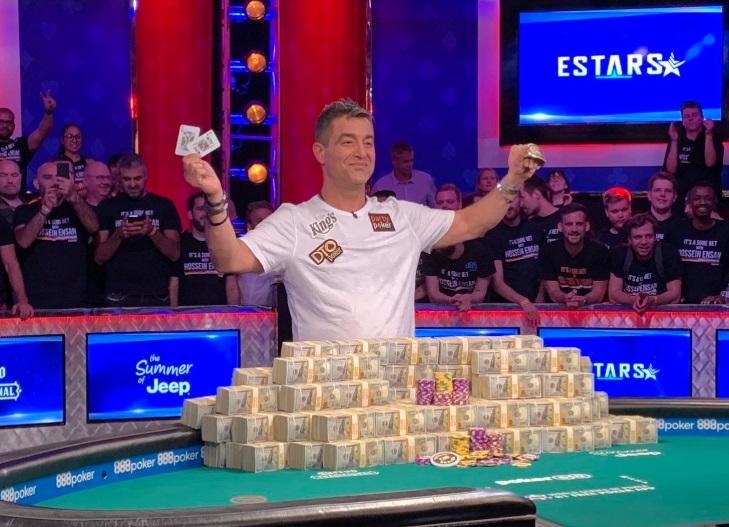 _________________

Last edited by TDTAT on 08.08.2019, 07:10; edited 1 time in total
Age: 53
Joined: 28 Apr 2010
Posts: 12281
Likes: 14275
Location: Reno,Nevada
3837523.00 NLN Dollars
Tournament Dollars

---
---
DO YOU KNOW HOW MUCH IT COST TO ENTER? THAT'S A HOLE LOTTA CASH. CONGRATS HOSSEIN!! ENJOY
TDTAT
Moderator
Joined: 11 Mar 2006
Posts: 94511
Likes: 38072
Location: Gambleville
1956221.10 NLN Dollars
Tournament Dollars

---
---
« shirlsplay » wrote:
DO YOU KNOW HOW MUCH IT COST TO ENTER? THAT'S A HOLE LOTTA CASH. CONGRATS HOSSEIN!! ENJOY



The main event of the World Series of Poker is $10,000 with no rebuys.

It's a big tournament with very slow blind structure so that gives an advantage to seasoned players. In other words, it's a long tournament.

_________________