Banana Jones Slot Review & Free Spins Codes - New RTG Game
TDTAT
Moderator
Joined: 11 Mar 2006
Posts: 81601
Likes: 20573
Location: Gambleville
2500105 NLN Dollars
Tournament Dollars

---
---
Embark on a Snakes & Ladders style board game of epic jackpots with Realtime Gaming's new Banana Jones
specialty game. Roll the dice five times per wager and keep on eye on where Banana Jones lands!
*Banana Jones free spins and free chip codes -click here*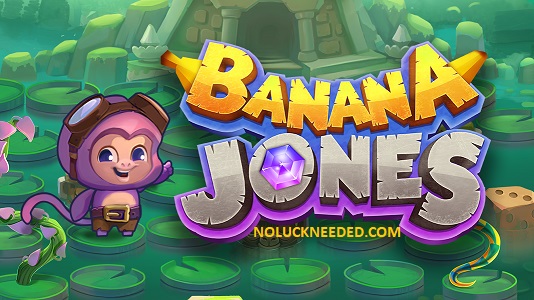 Banana Jones Review and Game Information




Play Banana Jones on all platforms at Realtime Gaming (RTG) Online Casinos.





Banana Jones Snakes and Ladders Game Review by NoLuckNeeded.com


Have you been looking for big wins and something new? Then Realtime Gaming's
new Banana Jones game is right up your alley! Embark on a Snakes & Ladders style board game with a
thrill-seeking monkey and hit is big if you help Banana Jones find the Crystal Banana in the Ancient Temple!

Roll the dice five times per wager and keep on eye on where Banana Jones lands! Watch out!
If Banana Jones lands on the head of a snake he will slip ní slide away from the temple! If he
lands on a vine then youíre in luck - Banana Jones will grapple his way down the vine and be closer
to his destination of the prized Crystal Banana! Be extra cautious when youíre navigating
Banana Jones on his dangerous journey for the Crystal Banana because heís not alone on this journey:
Leopold the Leopard and his bloodthirsty snakes are waiting to strike at any moment and steal Banana Jonesís riches!

If you activate the special treasure wheel or the Crystal Banana quests you can trigger even more cash wins!
If you complete the journey with Banana Jones youíll be rewarded greatly with a chest that includes cash fruit prizes!
Make sure you keep Banana Jones safe and youíll be rewarded greatly!



Banana Jones Game Details and Information:


Release Date: 1 August 2018 2018
Gaming Software: Realtime Gaming, RTG
Platforms: Download, Instant Play, Mobile
Type Snakes & Ladders Style Board
Top Award: 2565 times bet
Dice: 2
Dice results range: 2-12
Dice rolls per bet: 5
Free dice rolls Yes
Jackpot: Game without jackpots



Normal roll


If Banana Jones lands on the head of the snake, it moves down to the tail of
the snake. And if it lands on the base of a vine, it moves up to the top of the Vine.
∑ Symbols collected are tracked by the counter and are paid according to a pay table.



Treasure Wheel Feature


∑ The Treasure Wheel is triggered when Banana Jones lands on the Treasure
Wheel Head of the board.
∑ The Treasure Wheel awards 1 spin for a cash prize.



Crystal Banana Quest Feature


The Crystal Banana Quest is triggered when Banana Jones reaches the
Giant Temple at the end of the Board.
∑ Player is able to select a chest.
∑ The fruit (plum, apple, banana, grape, pear) inside the chest will be added to the counter.
∑ The first counter to be completed awards the prize displayed.



Free Spins No Deposit Bonus Codes List


Banana Jones No Deposit Bonus Codes -click here



Realtime Gaming (RTG) Casino Reviews and Ratings from NoLuckNeeded.com


Click here for RTG Online Casino Reviews, Ratings, and Rankings.



Banana Jones Game Screenshots:




_________________

Last edited by TDTAT on 02.08.2018, 13:13; edited 2 times in total
TDTAT
Moderator
Joined: 11 Mar 2006
Posts: 81601
Likes: 20573
Location: Gambleville
2500105 NLN Dollars
Tournament Dollars

---
---
Age: 36
Joined: 13 May 2018
Posts: 378
Likes: 603
Location: Central Illinois
430320 NLN Dollars
Tournament Dollars

---
---
this is actually a fun game I though I like it it is like chutes and ladders but for grown up lol I must say new game most at least seem to new thrill me much nor do I enjoy them that is unless or until I win on them lol but this game was a new chance which is good was good for me since I had free spins bonus to req a high play through and only allowed me to play on this game during that play through n th send I didn't win but I came close to making reaching the red play though amount but buster rite at the end def still had fun keep me busy for a few days I hope other enjoy this game and all the great bonus offer that came along with it
Joined: 03 Sep 2018
Posts: 23
Likes: 62
12150 NLN Dollars
Tournament Dollars

---
---
I really wanted to like Banana Jones because it is a different type of game, but itís been hard for me to come around to.

The slow playing nature of the game is definitely a benefit for preserving your balance over time. However, the wins are pretty rare for me on this one. The mini features on the way to the main feature rarely hit anything other the minimum prize. The same is most frequent for the main feature, paying the minimum prize the majority of the time.

If youíre looking for a slow playing game to stretch a balance, this could be your game.