Casino Reviews > onlinecasino.ac
onlinecasino.ac
OnlineCasino.ac - Always Cool Casino. ACCasino.com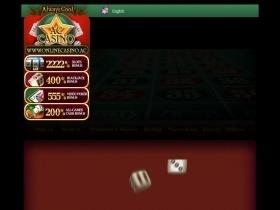 Rogue Casino Warning!: AC Casino has been classified as ROGUE by NoLuckNeeded.com for player neglect, nonpayment, or bad practices. Avoid this casino at all costs.
Editors Review - NoLuckNeeded.com
| | |
| --- | --- |
| Games | |
| Payout | |
| Bonuses | |
| Overall | |
AC Casino is not recommended. NoLuckNeeded Members have reported problems with this casino, play at your own risk.
Related Discussion and Bonuses for AC Casino
User Reviews
| | | |
| --- | --- | --- |
| Average rating: | Total reviews: 3 | |
Author
Review
davenyc111


scam scam scam rogue casino stole my winnings of 3000 players stay away

Reviewed On: 20.08.2012, 17:26
Jossie10


I really wish I'd done some research before having anything to do with AC Casino. I'm a sucker for free chips but this has been anything but fun. For the first time ever, I actually won $500 on a free chip. First of all I enquired about play through and, after a few emails and withdrawal requests, I played considerably more and once I believed I had played through sufficiently, (at this stage it was down to $200), I again requested a withdrawal via their accounts department.

This request was rejected again with the following explanation:

"Unfortunately, your withdrawal request has been declined for the following reasons:

The coupon codes you have redeemed are: FREECHIP65, FREECHIP46 and 12FREE.

Please remember that you are required to wager $4,920 on Slots and Keno to fulfill the wagering requirements of this bonus. You have currently wagered $4,920 on those games.

We highly recommend you not to redeem a second bonus while still having free chip bonus money in your account. We noticed you redeemed all those free chips and your account never went to $0 balance*. You are supposed to play with only one free chip at a time. In your case since you have been playing with all at the same time, then you must complete the wagering requirements for all.

This ticket is being closed. Please open a new ticket when ready to request a withdrawal again."

I accepted the explanation of cumulative wagering on multiple bonuses however the statement that I was "required to wager $4,920 on Slots and Keno to fulfill the wagering requirements of this bonus. You have currently wagered $4,920 on those games." to me, sounded as though I qualified.

Despite numerous emails to their support department trying to get them to see the anomaly (during which I was told by one person that I'd only be allowed a maximum withdrawal of $4 as the bonuses I'd used totaled $196 but I've got no idea where that figure came from!) but they just didn't get it at all.

In the end, I gave up complaining about the accounting issue and just focused on their customer service but they didn't "get" that criticism either.

The end result was that I got so fed up that I told them that I was going to publicise my experience and asked them to close my account, which they did without even an apology.

Reviewed On: 28.10.2010, 02:06
LadyLucky


I actually didn't mind the slots but the bonus rounds were awful.. paying very little to nothing. After managing to meet the Playthrough and WR of $2200 on the free ND chip and still have a balance, I proceeded to attempt a withdrawal. I had them deny every withdrawal method listed for one reason or another, and the one withdrawal method they finally accepted this casino wanted to impose a $40 fee! I would not recommend depositting at this casino.

Reviewed On: 11.09.2009, 21:49
Write a review for AC Casino
Log in to write a review for AC Casino
Note: If you find any errors in the information contained within the AC Casino profile page or have concerns with the content of the listing please Contact Us and we will look into your concerns.