Casino Reviews > goldencherry.com
goldencherry.com
Golden Cherry Online Casino

Reviewed by

NoLuckNeeded.com

Rating:

1

/5
Golden Cherry Casino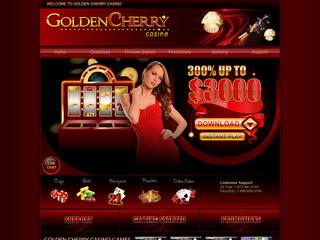 Description:
$3,000 SLOTS BONUS, $333 Free Play Offer


Casino is Closed: Golden Cherry Online Casino has been shut down and is no longer available to be played. If you have deposited money at this casino you will need to attempt to contact them directly but unfortunately it may be difficult to recover your funds. Always ensure you are using a trusted NoLuckNeeded.com casino if you are going to gamble online.
Editors Review - NoLuckNeeded.com
| | |
| --- | --- |
| Games | |
| Payout | |
| Bonuses | |
| Overall | |
UPDATE 2015: Golden Cherry casino has closed (good riddance).

Golden Cherry Casino opened in March of 2011. Please share your reviews if you play at the casino.

NoLuckNeeded members have reported very slow payouts. Please use caution at this casino!
User Reviews
There are currently no reviews for Golden Cherry Online Casino. If you have gambled at Golden Cherry Online Casino please share your stories to help others.
Write a review for Golden Cherry Online Casino
Log in to write a review for Golden Cherry Online Casino
Note: If you find any errors in the information contained within the Golden Cherry Online Casino profile page or have concerns with the content of the listing please Contact Us and we will look into your concerns.